Rockford Researchers Receive UIC Chancellor's Awards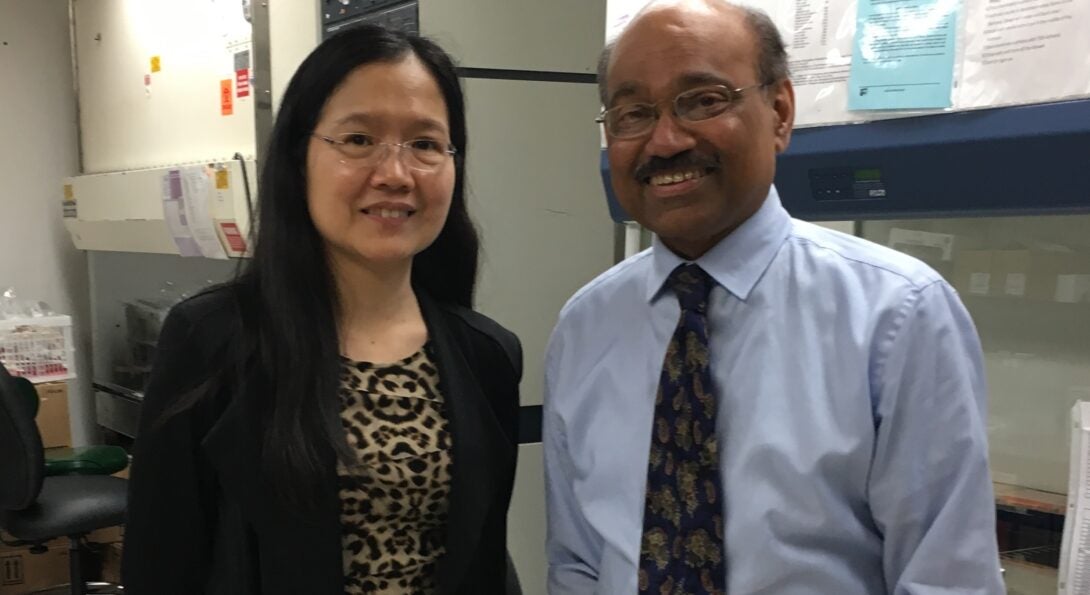 Two innovative researchers at the University of Illinois College of Medicine Rockford each received 2019 Chancellor's Translational Research Initiative Awards from the University of Illinois at Chicago to advance their promising research. The award includes $25,000 in grant funding.
Ramaswamy Kalyanasundaram, PhD, DVM, and Xue-Jun Li, PhD, were two of only 10 UIC researchers to win the competitive award. Both researchers are in the University of Illinois College of Medicine Rockford Department of Biomedical Sciences, where Kalyanasundaram is department head and a
Dr. Li and Dr. Ramaswamy
professor and Li is the Michael A. Werckle, MD, Professor and an associate professor.
"These funds will help Dr. Ramaswamy advance his work on developing a heartworm vaccination for dogs and Dr. Li's work using stem cells to help patients with diseases that affect spinal neurons," says Alex Stagnaro-Green, dean of the College of Medicine Rockford. "These are both promising areas that could have lasting impact on the health of people and also their pets."
The purpose of the award is to support innovative research that is still in its early stages, but has a high potential for commercial use.
Kalyanasundaram's research project will test the safety and effectiveness of a vaccine developed in his laboratory for preventing heartworm infections in dogs. Heartworms are parasites that can live in the heart, lungs and blood vessels of dogs and other animals, often causing severe disease and sometimes death.
Heartworm preventives that veterinarians prescribe now, such as twice-a-year injections or once-a-month chewable or topical medications, are recommended for a dog's whole life, explains Kalyanasundaram. "Right now, preventing heartworms can be expensive, time consuming and unpleasant for both the dog and its owner," he says. "Treating an infected dog, however, is even more expensive and complicated. A vaccine that would be effective in preventing heartworm infection would make it easier for pet owners to protect their dogs."
Li's project focuses on using a certain protein to see if it is helpful in repairing or even regenerating damaged nerve cells. This could lead to drugs or gene therapies that could treat patients who have nerve injuries or whose nerves degenerate, such as what happens in spinal muscular atrophy, amyotrophic lateral sclerosis (ALS, or Lou Gehrig's disease) and other nervous system diseases.
Li's research team is collaborating with Anne George, Ph.D., the Dr. Allan G. Brodie Endowed Professor and a professor of oral biology in the UIC College of Dentistry.
"Our goal for this research project is programming the stem cells we are working with so that they turn into functional human neural," explains Li. "Our long-term goal is to promote regeneration of damaged nerve cells, essentially reversing the course of spinal cord injuries and diseases affecting nerve cells."
Read more about the CTRI Program here: https://otm.uic.edu/resources/ctri/
Modified on February 09, 2023