LEAD Medicine Program aims to interest kids in health careers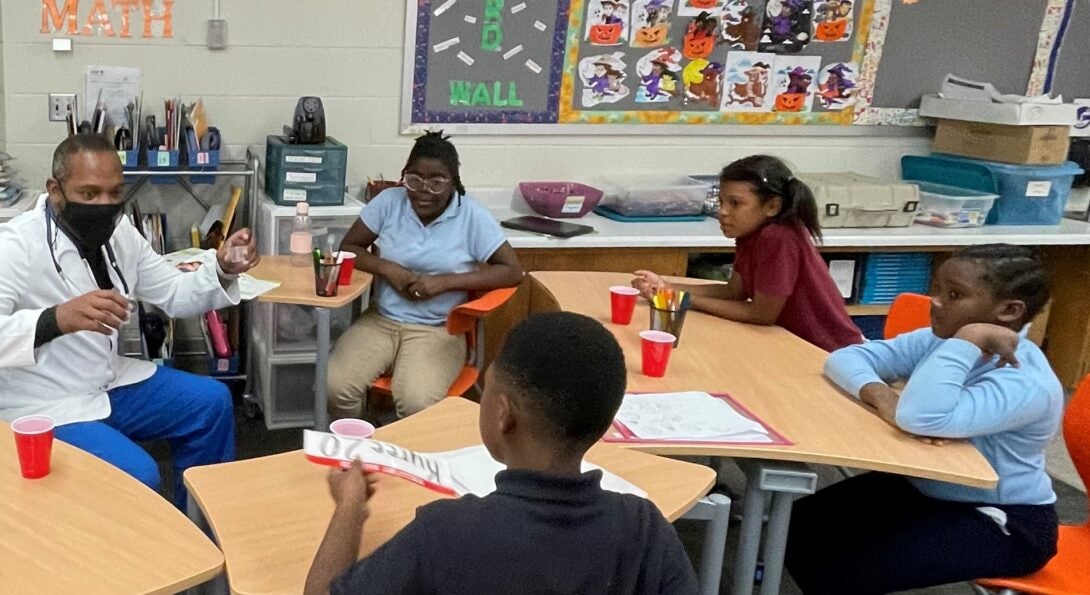 Many kids have visions of becoming an astronaut or firefighter, but several University of Illinois College of Medicine Rockford medical students also want them to know about opportunities in the medical field.
The Community Foundation of Northern Illinois awarded UICOMR $26,000 for the Learn and Educate through Actions to Diversify (LEAD) Medicine Program. Through the program, UICOMR students expose fourth and fifth-graders at STEAM Academy at Haskell to various medical professions.
The STEAM Academy at Haskell is a Rockford Public Schools special program for elementary students that integrates science and technology, interpreted through engineering and the arts, all based in mathematical elements.
The primary focus of the LEAD Medicine Program is education and mentorship, according to Alesia Jones, PhD, UICOMR assistant dean for diversity and inclusion and the principal investigator for the LEAD Medicine Program. The program consists of three components: a) medical students lead hands-on projects with elementary students; b) a medical student panel presents to the childrens' caregivers at a dinner and c) educators at Haskell have in-service learning presented by medical professionals.
"To meet the needs of our diverse communities, we need to identify ways to increase diversity in medicine," says Dr. Jones. "Upper elementary is a good developmental age where students are exploring and seeking to understand their surroundings and they become more inquisitive. This is an optimal time to plant the seed of possibility, so we we want to educate and mentor students about opportunities for them in the medical field."
Through the LEAD Medicine Program, the Haskell students are taught about brain and heart dissection, immunization, COVID-19 and patient examination, among other things. The hope is that through this program, students will have a foundation in medicine and be inspired to continue their health education and pursue a medical career in the future.
Each month, about 20 students travel to STEAM Academy at Haskell on Rockford's west side to interact with them, answer questions and talk about the benefits of going to medical school.
According to the Illinois At-A-Glance Report Card for 2021-2022 school year, nearly three-quarters of the students at this school identify as African American/Black or Latinx, with the majority (51.2%) of students identified as African American/Black individuals. This particular ethnic/racial group is significantly underrepresented in medicine. Black physicians still account for only 5% of all physicians in the US, thus, early exposure to medicine is crucial and warranted.
UICOMR medical students lead all program activities. The majority of medical student leaders are participants in the Urban Health Program (UHP) at the Rockford campus, which provides programming, resources and support for medical students from traditionally underserved communities under the direction of Brenda Fisher.
"As doctors, we become role models in the community, so it's important to create these connections, and going into the school can help expose kids to a medical profession," says Danielle Rossell, a second-year UHP medical student in the LEAD Medicine Program. "They're at a stage where they're thinking about goals in the future. This is an opportunity for us to speak to them early and let them know that getting in the medical profession is something they can do."
Christoph Grice, a first-year UHP medical student, agrees.
"It takes a village, and these kids need mentors and they'll need as much support as possible," he says. "It's important that we have meaningful interactions with them so we can leave them with very strong impressions."
Dr. Jones says students from Haskell will also work with UICOMR students on the UIC Health Sciences Campus-Rockford, so they can get a feel for what it's like working and training in a real medical school.
"We want to expand the program, but since this is new, we want to test it out and see if it's helpful and address any challenges," she says. "The school has field trips throughout the year and they're going to integrate us into their field trip schedule. They can bring the students to the College of Medicine Rockford and interact with medical students, so they'll be able to visualize themselves as future physicians."
UICOMR students in the LEAD Medicine Program are able to take a break from their regular routines, and at the same time, have a chance to interact with the kids.
"I was in fifth grade when I decided to become a medical doctor," says Mwangi Wamaina, a second-year UHP medical student. "So, it's interesting to work with kids in this same age group. It's satisfying to know you're making a positive impact on someone's life."
Celeena Remmers, also a second-year UHP student, hopes her diverse background and experience in the medical field make an impression on the students.
"Growing up, I didn't have many women doctors, let alone Mexican women doctors, so now that I'm going to be one, I hope that I can be in a child's life so they can say, 'Hey, that can be me,'" she says. "From our cohort of medical students who go to the school, we're extremely diverse. It's comforting to see people like me in places, so I hope we can do that for the Haskell students."
Dr. Jones recently provided an in-service to educators at STEAM Academy at Haskell providing strategies to nurture students' interest in medicine. Madhari Henry, MD, a second-year UICOMR family medicine resident, also participated in the in-service, sharing his journey to medicine and the importance of teachers and role models.
Modified on August 25, 2023