Gov. Pritzker Announces $500 Million Commitment to Illinois Innovation Network and Discovery Partners Institute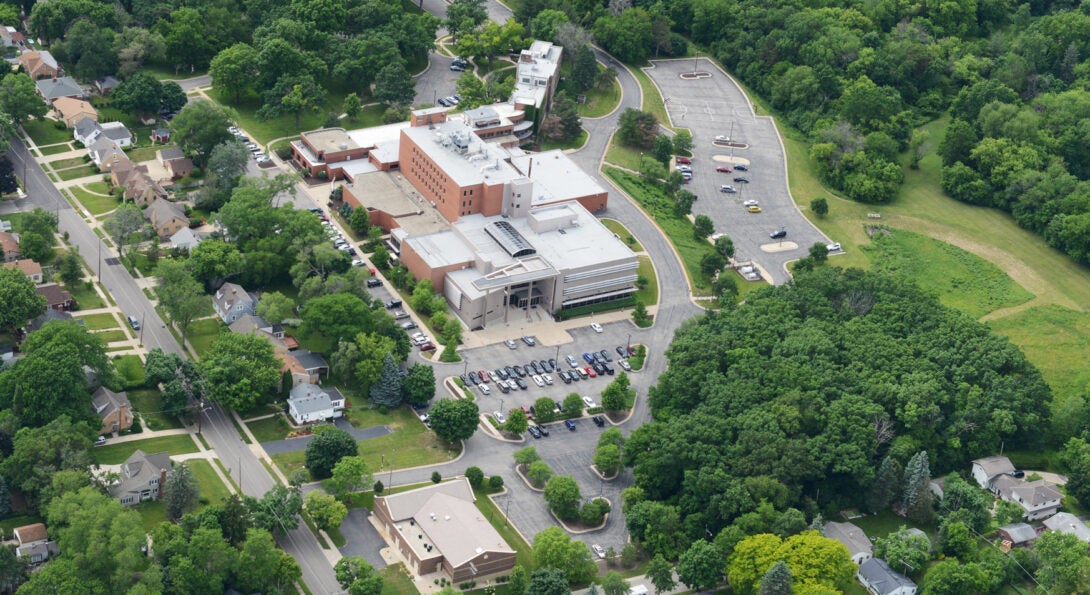 UIC Health Sciences Campus-Rockford Is IIN Hub Site
Highlighting his dynamic, long-term vision for economic development built on state-of-the-art technology, robust higher education and private partnerships, Illinois Governor JB Pritzker announced on Feb. 11, 2020, that the State of Illinois is moving forward with $500 million in capital funding for the Illinois Innovation Network (IIN) and Discovery Partners Institute (DPI).
Led by the University of Illinois System and its three universities in Urbana-Champaign, Chicago and Springfield, the IIN and DPI were first announced in 2017. They are a network of research and innovation hubs that will serve as a magnet for technology and talent. The UIC Health Sciences Campus-Rockford is one of the hub sites of the IIN.
"Illinois' nexus of partnerships, innovation hubs, public and private universities, national laboratories, and international research programs is the foundation for a technology ecosystem that will rival any location in the world," said Pritzker. "And through the Illinois Innovation Network, DPI's success will radiate across the state to 15 hubs from Chicago to Rockford to Peoria to Edwardsville. We are investing in workforce development, innovation and R&D all across our state."
Together DPI and the IIN are expected to create or fill 48,000 new-economy jobs over the next decade, according to the latest economic impact study conducted by the Boston Consulting Group. In all, IIN and DPI are expected to have an economic impact of $19 billion over the next 10 years, a return of nearly 40 times the original state investment.
IIN and DPI are focused on preparing students and workers to step into lucrative, high-tech jobs, and increasing funding for the applied research and development that will create more of those life-changing careers. At the same time, IIN and DPI will emphasize inclusivity to increase the diversity of the state's new economy workforce. Together, IIN and DPI are designed to develop, attract and retain talent, providing a hive of technological research and innovation that combines the power of students, faculty and companies to propel Illinois toward a future as a leading tech destination.
The funding committed by Gov. Pritzker will allow DPI in Chicago and other hubs of the IIN across the state to begin architectural design work while attracting more private funding from both corporate partnerships and philanthropy. Under Gov. Pritzker's leadership, the university dramatically accelerated its private fundraising, and has raised roughly $230 million to date from private donors.
"The news that the funding is coming through for the Discovery Partners Institute and the Illinois Innovation Network is great to hear," says Alex Stagnaro-Green, MD, regional dean of the University of Illinois College of Medicine Rockford. "We are looking forward to expanding our role in rural health professions education as we develop the Illinois Rural Hub at the UIC Health Sciences Campus-Rockford as part of the Illinois Innovation Network."
Stagnaro-Green expects about $3 million will be allocated for the Rockford campus to develop the Illinois Rural Hub.
The University of Illinois College of Medicine Rockford started a Rural Medical Education Program to train physicians looking to practice in rural areas back in 1992. Built on the success of this program, the college established the National Center for Rural Health Professions at the UIC Health Sciences Campus-Rockford in 2003 and its Rural Health Professions program now encompasses supplemental education for pharmacy, advanced practice nursing and behavioral health students. The NCRHP is also home to the Illinois Area Health Education Centers Network (AHEC) Program, Student Pipeline Programs, Native American Pathways Program, and Global Health Partnership Program. The NCRHP is also a Pan American Health Organization/World Health Organization Collaborating Centre for Medical Education and Primary Health Care.
In developing the Illinois Rural Hub, Stagnaro-Green hopes to attract other health professions programs in addition to the University of Illinois at Chicago programs already offered on the Rockford campus, which are medicine, pharmacy and nursing.
Modified on February 27, 2023