Three rural hospitals receive Distinguished Community Award at Convocation ceremony
Three rural hospitals receive Distinguished Community Award at Convocation ceremony Heading link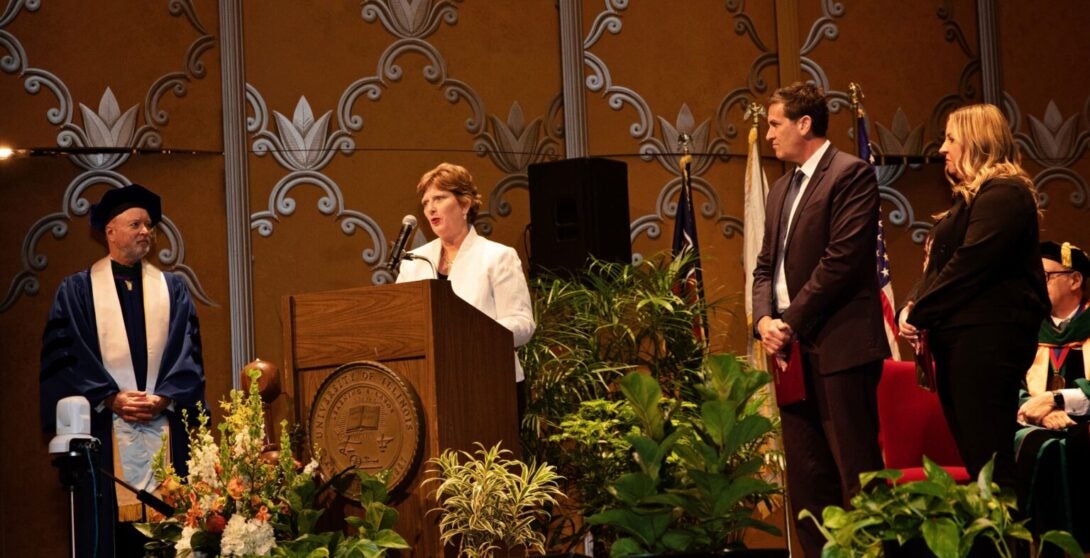 Three rural hospitals of the Memorial Health Network — Taylorville Memorial Hospital, Lincoln Memorial Hospital and Jacksonville Memorial Hospital — were the recipients of the 2023 Distinguished Community Award. The award was given out at the University of Illinois College of Medicine Rockford Convocation Ceremony.
The Distinguished Community Award goes to a nominee that enhances the stature or growth of UICOMR with contributions of a special nature.
Since 2020, these three rural members of the Memorial Health Network have hosted Rural Medical Education Program students for 22 separate rotations. Specialty experiences in OB/GYN, internal medicine, pediatrics, combined medicine/pediatrics and emergency medicine have all been popular sites for student engagement. The financial commitment to provide room and board to the students is significant, but the hospitals have cheerfully agreed to provide these benefits to the students.
Students who attend these community-based career exploration rotations are now seeking careers in fields they hadn't considered, most notably the combined residency in internal medicine/pediatrics. Many students say they're strongly considering rural placements in the geographic areas of these Memorial Health facilities once they complete their residences.
Other hospital systems who've learned of the program with Memorial Health have approached the RMED team seeking their own similar involvement with our medical students. Some have already developed similar courses in their own communities and will begin accepting students once their providers are appointed to the UIC faculty.
Modified on June 13, 2023