Volunteers provide Golden Connections to older adults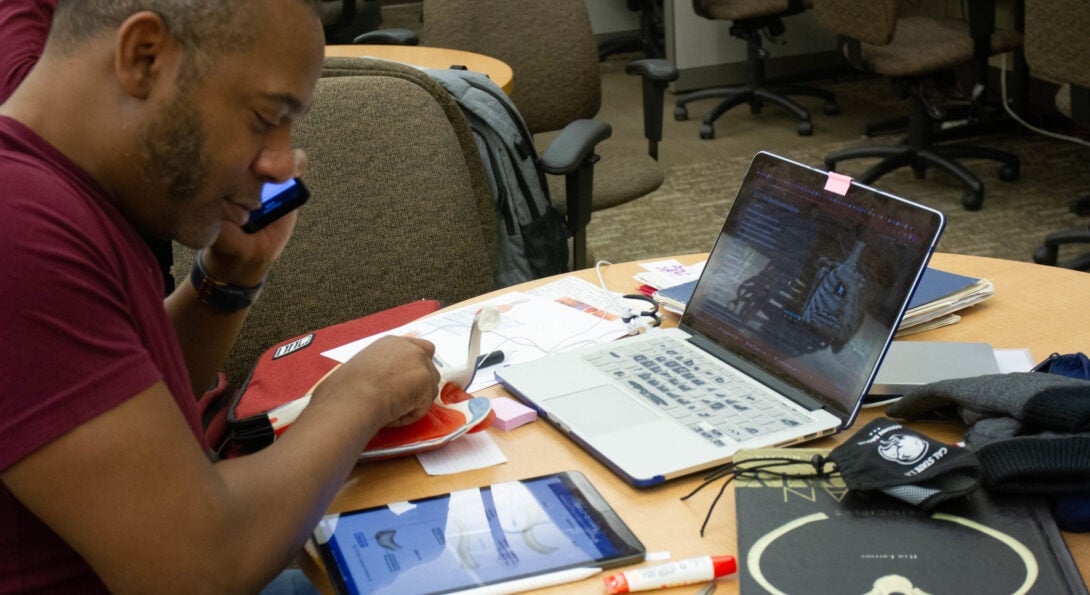 For nearly three years, students, faculty and staff from both undergraduate and professional programs at University of Illinois Chicago have made almost 3,500 phone calls to older adults in the community through Golden Connections, a student-volunteer driven, phone call-based program.
Formally known as the 21st Century Good Neighbor Program, Golden Connections links volunteers with adult clients of Lifescape Community Services in Rockford.
The program's purpose is to seek out concerns and answer questions Northern Illinois residents have about their health. Using a script of questions, volunteers place several phone calls throughout the month to these residents and offer them resources if they need food, utilities or health and wellness services. Students then communicate these needs to Lifescape.
"We're treating people who have other concerns that may factor into their overall health," says Tiayrra Kirkwood, a second-year medical student in the program. "This program has a public health emphasis and it helps us recognize that a patient is more than just a person we have in front of us for 15 minutes. They have other things going on in their lives and we need to be able to ask questions and talk to them in order to best serve them."
Golden Connections is supported by a $10,925 grant from the Community Foundation of Northern Illinois. It was awarded to Linda Chang, PharmD, associate professor of clinical family medicine in the College of Medicine, and Heidi Olson, PharmD, an assistant clinical professor in the UIC College of Pharmacy.
"Right now, we're largely reliant on the volunteers," Olson says. "Our faculty is doing it as part of our regular day-to-day jobs and it's something we find beneficial, so we don't mind putting in the extra effort and the extra time."
The program got off the ground in the early stages of the pandemic and was designed to assist older adults experiencing social isolation, living in fear, or suffering from anxiety.
"The primary focus of this was to create a neighborly-like connection between the volunteers and older adults," Olson says. "The older adults and volunteers are getting something out of this even if they just talk on a weekly or bi-weekly basis. Sometimes the conversations can last up to 45 minutes."
Golden Connections allows students to use their communication skills and develop empathy for socially isolated adults. It also gives them an opportunity to work with a local service agency, which connects residents with valuable community resources.
"This is a great opportunity for students to see social isolation effects in older adults and learn about their mental health and physical conditions," says Andrea Cruz, project manager of the program. "Students are able to help identify those issues and also provide a personal connection to older adults who may not have someone to talk to."
Maddie Purvis, a second-year medical student also involved in the program, says Golden Connections has given her some insight into different personalities and acceptance of care.
"Sometimes, you call people and they don't want to talk, but other people are open and want to chat," she says. "We're able to see what the needs of the community are and, as future physicians, we can help them address those needs."
Volunteer opportunities are available and open to students, faculty and staff of UIC regardless of college or program. Training will be provided.
For more information or to sign up, email goldenconnections21@gmail.com.
Modified on March 07, 2023