Match Day Results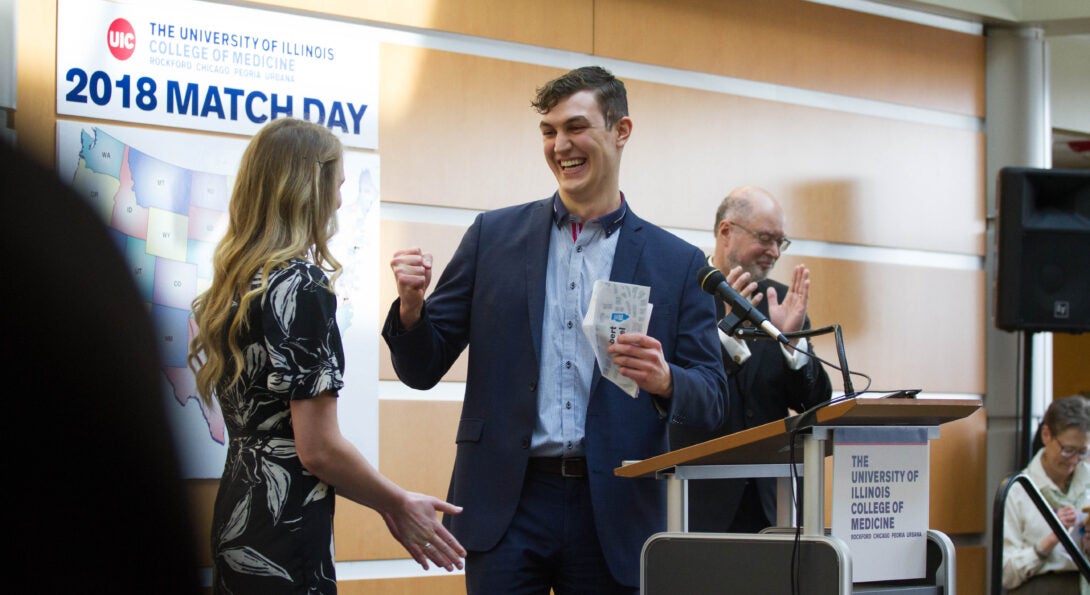 University of Illinois College of Medicine Rockford Announces Residency Matches for Graduating Medical Students
In Rockford and across the nation, graduating medical students found out where they will spend the next three to seven years of their medical training at 11:15 a.m. on Friday, March 16.
Fifty-three students from the Class of 2018 at the University of Illinois College of Medicine Rockford matched into residency programs in 13 specialties in 17 different states. Fifty-three percent of the Rockford students matched into primary care specialties, including family medicine, internal medicine and pediatrics.
Sixteen graduates will stay in Illinois with a total of 68 percent continuing their training in the Midwest.
The National Resident Matching Program, or "The Match," is a private, non-profit organization established in 1952 at the request of medical students to provide an orderly and fair mechanism for matching the preferences of applicants for U.S. residency positions with the preferences of residency program directors.
University of Illinois College of Medicine Rockford
Match List – Class of 2018
Emergency Medicine
Tamathor Abughnaim, Advocate Health Care-Illinois, Oak Lawn, IL
Joseph Devito, University of Illinois St. Francis Medical Center, Peoria, IL
Omar Diaz, University of Illinois College of Medicine, Chicago, IL
Fabiola Enriquez, University of Rochester/Strong Memorial, Rochester, NY
Akash Patel, Presence Resurrection Medical Center, Chicago, IL
Kavish Thakkar, Presence Resurrection Medical Center, Chicago, IL
Rachel Trumpy, Western Michigan University/Stryker School of Medicine, Kalamazoo, MI
Family Medicine
Cody Bianchetta, University of Illinois College of Medicine, Rockford, IL
Paige Clayton, University of Illinois College of Medicine, Rockford, Dixon, IL
Alisha Dessavre, Halifax Medical Center, Daytona Beach, FL
Alyssa Emery, University of Missouri, Columbia, MO
Robert Freidel, University of Wisconsin School of Medicine and Public Health, Madison, WI
Kyle Hadden, University of Missouri, Columbia, MO
Robert Hernandez, White Memorial Medical Center, Los Angeles, CA
Katelyn Klosterman, St. Vincent Hospital Center, Indianapolis, IN
Kelsey LeVault, SIU School of Medicine, Springfield, IL
Abigail Miller, Aurora Health Care/ASMC-WI, Waukesha, WI
Julie Shepherd, Quincy Family Practice Center, Quincy, IL
Dyllan Tiburzi, Memorial Hospital, South Bend, IN
Internal Medicine
Noah Boton, University of Michigan Hospitals, Ann Arbor, MI
Niteesh Chitturu, St. Louis University School of Medicine, St. Louis, MO
Nimrod Deiss-Yehiely, University of Wisconsin Hospital and Clinics, Madison, WI
Ivo Genev, Loyola University Medical Center, Maywood, IL
Anoop Pasupuleti, University of Texas Rio Grande Valley, Edinburg, TX
Soo Min Shin, California Pacific Medical Center, San Francisco, CA
Daanish Siddique, Indiana University School of Medicine, Indianapolis, IN
Megan Weber, University of Utah, Salt Lake City, UT
Qing Wang, Madigan Army Medical Center, Seattle, WA
Internal Medicine/Pediatrics
Jonathan Kooiman, Vanderbilt University Medical Center, Nashville, TN
Interventional Radiology (Integrated)
Amer Rasheed, Medical College of Wisconsin, Milwaukee, WI
Ophthalmology
Pruthvi Kothari, University of Cincinnati Medical Center, Cincinnati, OH
Neurological Surgery
Harsh Shah, Virginia Commonwealth University Health Systems, Richmond, VA
Julia Yi, University of Texas Southwestern Medical School, Dallas, TX
Neurology
Neil Sharma, University of Illinois College of Medicine, Chicago, IL
Obstetrics and Gynecology
Ashton Ballinger, University of Tennessee College of Medicine, Chattanooga, TN
Joseph Hancox, Wright State University Boonshoft School of Medicine, Dayton, OH
Danielle Ikoma, University of Iowa Hospitals and Clinics, Iowa City, IA
Kristen Koniewicz, Medical College of Wisconsin, Milwaukee, WI
Caitlin Walker, Advocate Health Care-Illinois, Chicago, IL
Orthopaedic Surgery
Leonard Onsen, University of Illinois College of Medicine, Chicago, IL
Theodore Schoenfeldt, Loyola University Medical Center, Maywood, IL
Pediatrics
Ishan Dahal, Jacobi Medical Center/Einstein-NY, Bronx, NY
Christina Kim, University of Iowa Hospitals and Clinics, Iowa City, IA
Noah King, University of Kentucky Medical Center, Lexington, KY
Mariah Sisson, University of Iowa Hospitals and Clinics, Iowa City, IA
Kelsey Wojcik, Children's Hospital, Los Angeles, CA
Psychiatry
Patricia Baumann, SIU School of Medicine, Springfield, IL
Peter Karalis, Community Health Network, Indianapolis, IN
David Krone, University of Illinois College of Medicine, Urbana, IL
Jenny Tumba, University of Wisconsin Hospital and Clinics, Madison, WI
Psychiatry/Family Medicine
Kate Jarvis, University of Iowa Hospitals and Clinics, Iowa City, IA
Urology
Christopher James, Loyola University Medical Center, Maywood, IL
Vascular Surgery
Rohan Kulkarni, UPMC Medical Education, Pittsburgh, PA
Modified on February 09, 2023