Community Engagement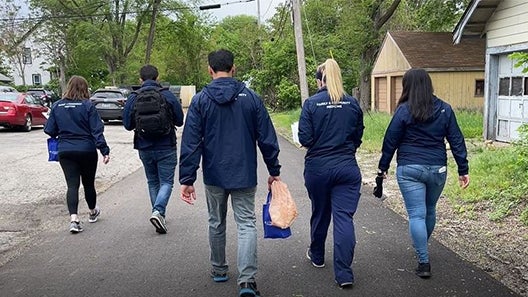 The Department of Family and Community Medicine promotes and enhances the health of our community by extending our education, patient care and research endeavors beyond the clinic setting. We partner with many community organizations to improve the health of communities through:
educating students and residents how to become community-responsive health professionals;
working closely with community organizations to provide clinical care as part of community initiatives;
supporting community-based research that is responsive to community needs by building trust with community
partners over time, while providing research and training opportunities for faculty, students and residents.
Midtown Strong Block Party
Medical students and residents are invited to help with implementing hands-on health activities during the Midtown Strong Block Party, happening Saturday, Sept. 9 at 6 p.m. in the Inscape Collective parking lot, 201 7th St., Rockford. There will be music, food trucks, family-friendly activities and free tacos for the first 100 attendees.
United Way
Students can browse the wide-range of volunteer opportunities that are available throughout the Rockford community and sign-up for specific events on United Way of Rock River Valley's We Volunteer portal.  The portal has a dashboard that will track all of your volunteer experiences.
Walk with U
Volunteer at Walk with U, the UICOMR doctor-led walking group, to help with set-up, registration, walk, and clean-up. Sign up by emailing Vicki at vweide1@uic.edu at least two Fridays before the event. See all upcoming Walk with U events.
LOVE Rockford
LOVE Rockford is a quarterly "one stop shop" event that brings needed services to the downtown area. Representatives from physical/mental health services, social services, and governmental agencies are on site to connect residents from the greater Rockford area with agencies that can provide help. Each event hosts services that focuses on a specific population. There will be resources, food, clothes, giveaways, and much more!
Saturday, December 2, 2023
LOVE Rockford: General Public Health
10:00 a.m. – 2:00 p.m. Location TBD.
Sign up to volunteer by emailing Vicki at vweide1@uic.edu by Friday, November 17.

Saturday, 9:00 am–10:00 am
Colored Sands Forest Preserve & Bird Sanctuary

Saturday, 9:00 am–10:00 am
Midway Village Recreation Path

Saturday, 9:00 am–10:00 am
Pecatonica Forest Preserve

Saturday, 9:00 am–10:00 am
Headquarters Forest Preserve