Master of Science Curriculum
In the first year of the program, students will take compulsory subjects such as protein biochemistry, cell biology, immunology, bioethics, statistics, product development, and a series of elective subjects. This coursework is designed to enhance their theoretical and practical training in a selection of techniques and processes common to biotechnology research. The second year will vary depending on the track chosen. The MBT program curriculum is designed with flexibility to allow schedule tailoring the need of a wide range of students. Students will be guided to plan the route they wish to take to fit their needs throughout the program. Contact us for more information on course availability.
Degree Requirements
Minimum Semester Hours Required – 34 credit hours.
Course Work
Comprehensive Examination – Not required
Thesis, Project, or Course-Work-Only Options: Research Project or Course-Work-Only.

Research Project Option (lab research or library paper) with written and oral final reports.

In addition to required courses and electives, students must earn 8 credit hours in MBT 597.
Research project requirement requires design, justification, and execution of a research project and preparation of written and oral final reports. This requirement may be met by research conducted at University of Illinois College of Medicine Rockford or other University of Illinois sites or in the laboratories of one of our industrial/academic partners or a combination of both.
Formal defense of the research project is required.

Course-Work-Only Option:

In addition to required courses, students must complete at least 14 credit hours of electives yielding a minimum total of 34 credit hours.
The Course-Work-Only Option also allows for students to do an internship at an approved site. Students choosing to do an internship must complete up to 8 credit hours of MBT 592. Students must then select enough elective credit hours to complete the 14 credit hours of electives required for the Course-Work-Only option. For every one credit hour of MBT 592, students must complete 75 hours of internship. Upon completion of the internship, students must submit a written report and give an oral presentation.
View a typical 2-year structure that can be followed by all full-time students beginning their program during the Fall semester.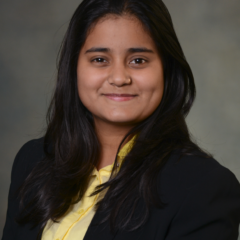 The curriculum in the MBT program is meticulously designed to prepare the students for careers in academia and industry. I've been very fortunate in the learning opportunities that I've gotten in the time I spent in the MBT program – the opportunities that helped me thrive in the biotech industry but at the same time to stay motivated to pursue a Ph.D. in the next phase of my career. Being an international student, I had my fears and paranoia about moving to a new place and simultaneously dealing with an intense program. But MBT takes care of you well enough so you can focus on the more important things. I will be forever grateful for the technical and life skills I've learned while at MBT.

PhD Candidate, Baylor College of Medicine, Houston, TX

|